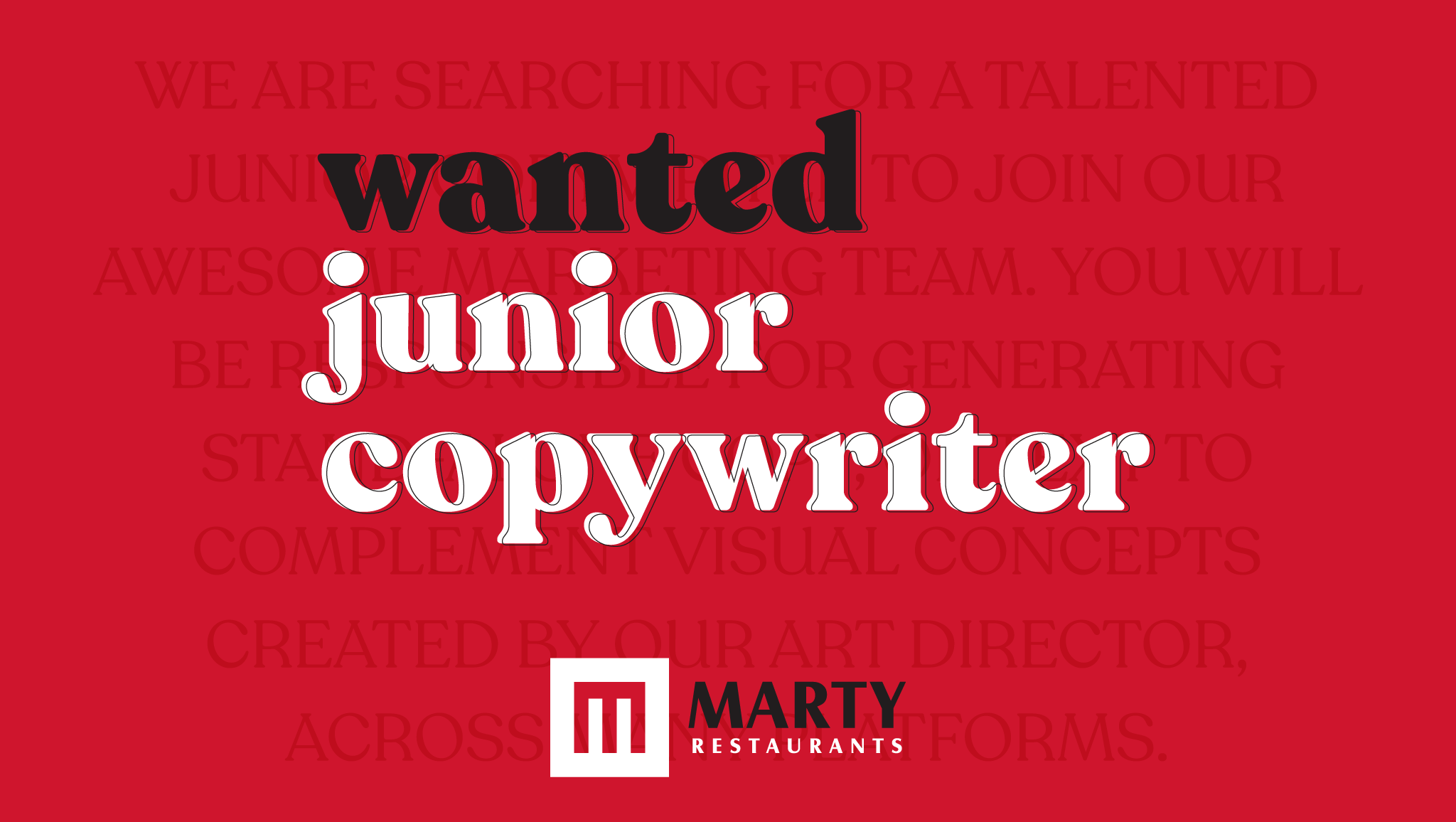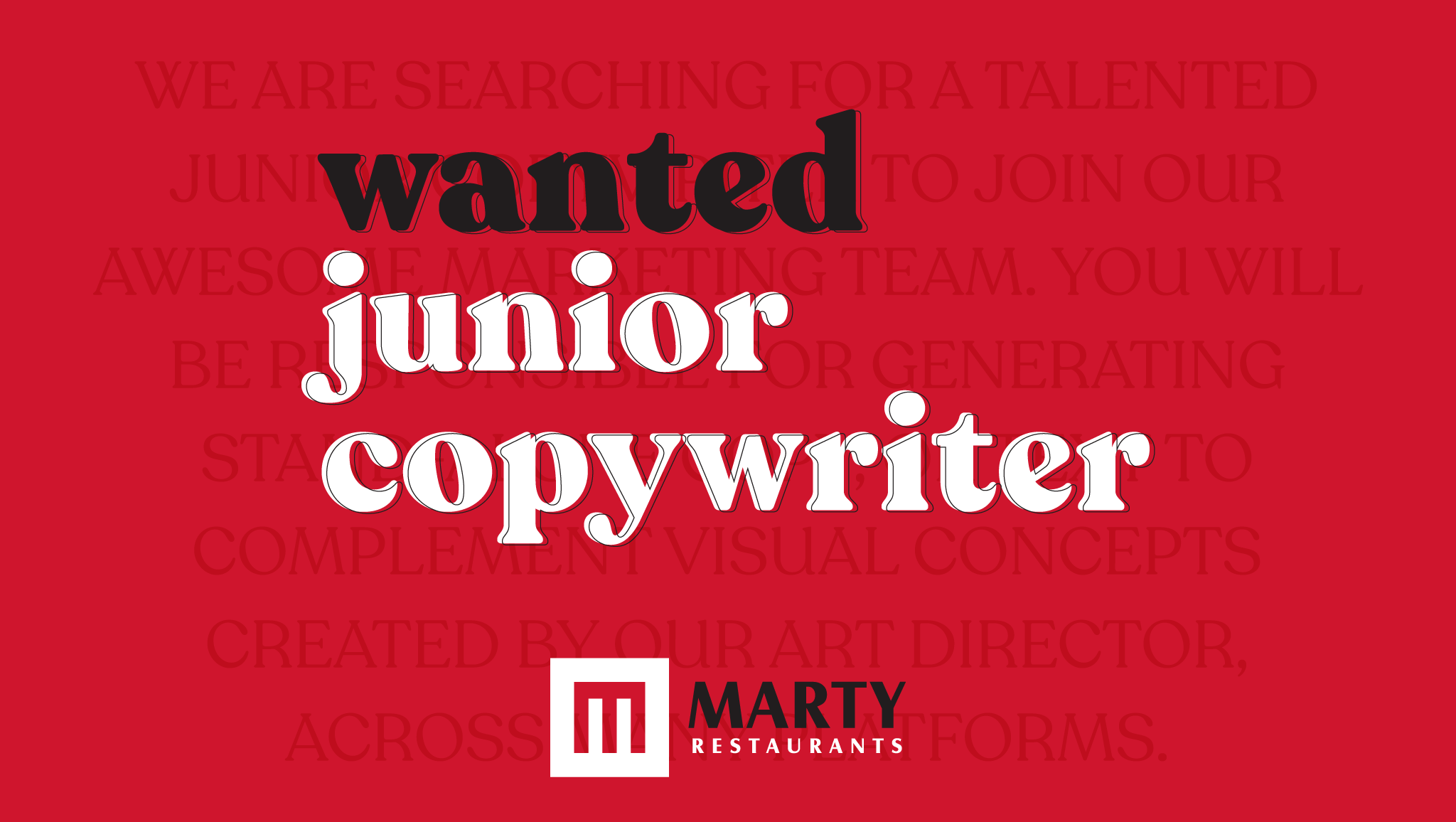 Wanted! Junior Copywriter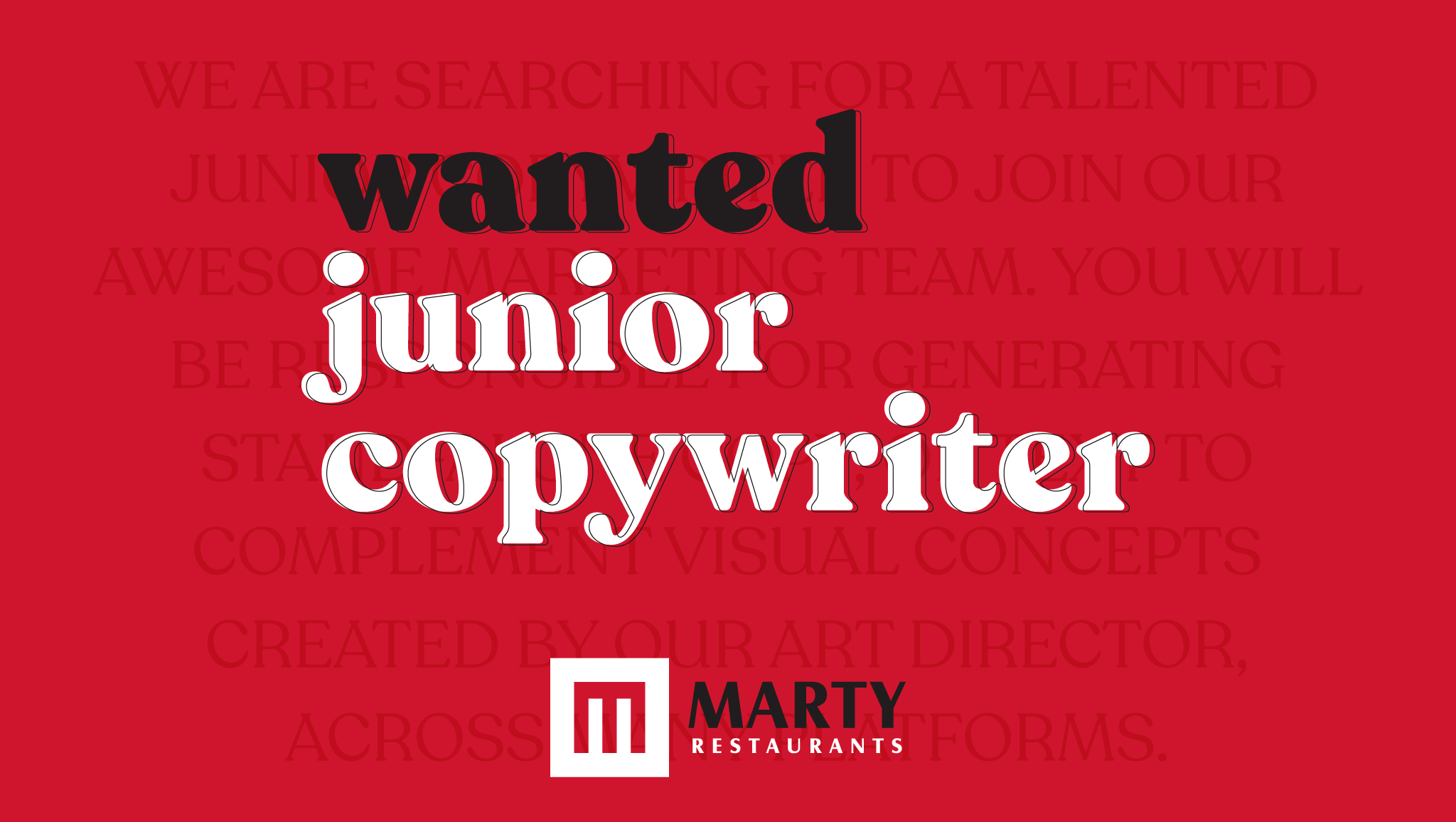 DESCRIPTION
We are searching for a talented junior copywriter to join our awesome marketing team @ Marty Restaurants. You will be responsible for generating stand-alone copy, or text to complement visual concepts created by our art director, across many platforms.
RESPONSIBILITIES
Researching the brands you are working with and translating their vision into captivating copy
Getting to grips with specifications provided by the senior copywriter
Working with colleagues to come up with new creative strategies to further a business or organisation
Ensuring that copy is kept consistent and on-brand
Managing the brand's social media presence (Facebook, Instagram, LinkedIn, etc.):

plan and create relevant social media posts and stories, according to each brand's voice and personality
engage in conversations with our followers, that respect each brand's guidelines
answer community feedback in a timely and professional manner
create weekly and monthly reports that summarize the performance of each page and make recommendations for improvement
research social media trends and apply what is relevant to the brands

Coming up with creative new ideas for future campaigns and translating these ideas into copy, which may include: product naming, campaign tagline, campaign description etc.
Creating digital content, such as: blog posts, newsletters, website content, product descriptions etc.
Generating copy across other platforms, such as: press and print, advertising, press releases, sales letters, articles, brochures, video scripts etc.
Keeping an eye for real time marketing
Managing a high volume of daily tasks
SKILLS REQUIRED
Creative thinking - The ability to think creatively and translate ideas into copy
Write the content right - The ability to write strong, succinct copy that is grammatically correct
Flexibility - A flexible approach and willingness to adapt ideas to each brand, situation and requirements
Work in a fast-paced environment - The ability to meet deadlines and work in a pressurised environment
Great organisational skills
An eye for detail and a desire for perfection
Strong research skills that ensure all copy is correct and accurate
A passion for writing and the willingness to learn from other creative professionals
Good planning skills - you know how to set goals, make a plan to achieve them and manage the process to reach said goals
Proactivity – You're a proactive problem-solver with a positive attitude, and we can rely on you to tell us what we can improve, even without asking
Understand your target audience – You understand consumers and what motivates them online; you know how to do target audience research.
WHAT WE OFFER
The opportunity to work with one of the oldest and largest restaurant chains in Romania and the other Hospitality brands in Marty Group
Professional development - through paid courses, conferences etc.
Awesome team of professionals
Competitive salary
Daily lunch break, food included :)
Free specialty coffee
Office gear - laptop, work phone
Free entrance to all the major festivals the company takes part in
Do you have what it takes? Send your resume to marketing@martyrestaurants.com and watch the magic happen!